There are patches of ice on the path but in the morning sun, in one of the eucalyptus trees that frame the whalebone arch at the entrance to the bowling green at Thornes Park, Wakefield, a song thrush is singing. It's such a varied song that at first we think 'what is that bird', but each phrase is repeated a couple of times so we soon identify it and focus on the bird.

Seeing sun on eucalyptus reminds me of my friends and relatives in Australia, for instance Penny of Victor Harbour, South Australia who tells me: ' We head off for our annual week on Kangaroo Island over Christmas, actually a few days longer than normal, so I hope to get some sketching done then. Think of us with prawns, crayfish, oysters and champagne on the beach.'
Because of the time difference, at the time Penny and friends are setting off for their picnic, I'll be striding along cold dark pavements on my way up Quarry Hill to midnight mass at St Peters.

Near Holmfield House in the park, a smaller winter thrush, a redwing (right), perches in small tree. They're usually to be seen in a flock, but I don't spot the others.
A male and a female blackbird (left) visit a small tree by Sainsbury's car park which is covered with red berries.

A row of these cut-out hedgehogs, made to a local school child's design, top the iron railings at the small Millenium Green on Denby Dale Road. As I stop to tie up my trainer by the nearby roundabout I spot the prickly remains of one, almost equally flat, lying at the foot of the wall. They evidently find their way to Wakefield's retail area. Perhaps the remains from takeaways offer some possibilities for scavenging.

On the Beach
A few black scavengers - crows - were investigating the grassy slopes of the park, but that's the Pacific Ocean, not the park duck pond, in the background in this picture which my brother Bill snapped on a trip to California this autumn at a beach at San Simeon, not far from Hearst Castle. I'm guessing this is a crow but perhaps it's a raven.
Bill has decided that, if reincarnated, he'd like to come back as an elephant seal: he thinks he could get used to that kind of lifestyle; lying on the beach, soaking up the sun, swimming majestically through the surf.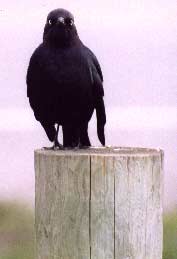 But, having photographed the seals, like all good tourists do, he felt that this black bird(right) back at the car park was saying to him:
'What about me?! How about photographing me?!'
Taking just a telephoto lens in his minimal kit was great for Bill's wildlife shots. What wasn't so handy was that, after he'd taken a photograph for a couple of chaps on Harley Davisons, he asked one of them to return the favour and take a photograph of him and his two buddies.
The biker had to walk to the other side of the car park with Bill's telephoto to fit the threesome into the frame.

Poinsettia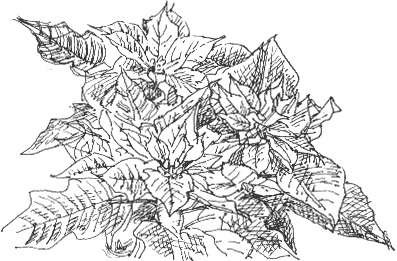 Apparently Poinsettia, Euphorbia pulcherrina, grows as a weed in Mexico. As a houseplant, it's something of a Christmas tradition here, as it is the USA. I asked Rheba in Texas if it's a native there:
'We are too far north for Poinsettias to grow here,' she tells me, 'They grow in New Orleans, not native, but I have seen some blooming ten feet high in the older parts of that city. Even there they have to be protected by covering them in the winter. Anything I plant has to be hardy enough to survive the winter because I won't coddle them. I love poinsettias, though, and have a huge one in the dining room.'
It seems strange to draw our Poinsettia and not add colour to show the blood red bracts around the small flowers in contrast to the deep green leaves, but we had the first of our Christmas visitors this afternoon so I limited myself to pen and ink as we chatted.
You see; I can be sociable and make the odd small sacrifices to my workflow at this time of the year.

Richard Bell, richard@willowisland.co.uk