It's such a pleasure to sit down with a cup of coffee and a copy of Michael Nobbs' new hand drawn journal The Beany. You might know his work from his website (see link below), and there's stacks of his drawings there, so why read the book?

For a start, it's lovely to see the drawings on paper, unencumbered by menus, links and scroll bars. You're able to handle the story as an object - on the same intimate scale as one of the everyday objects he habitually draws - rather than just tune into a flickering presence on the screen.

It's got a freshly printed smell; now, you never get with a weblog, do you? I've looked through my copy several times so already getting it's getting a bit curly and opening on favourite pages; that's true interactivity, isn't it?

Books v. Blogs

Reading the book is an experience which starts at the beginning at page 1 (a beany hat), goes on right the way to the end at page 62 (a tin of sardines) then stops. Like a piece of music, you can pick up its rhythm and cadences; something that's easily lost in a story on the web. While an internet experience can potentially go on forever, a book is more intimate, and this 5 x 5 inch paperback is the ideal medium for his tale of a few months in 'his small and insignificant looking life on the west coast of Wales'.


© Michael Nobbs, 2004.
Used with permission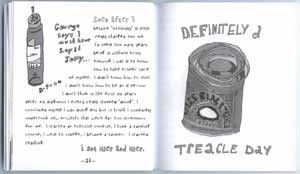 In a gentle mode that reminds me of a short story, or an afternoon play on BBC Radio 4, Michael takes us in search of the perfect pen, in search of mountains that disappear in the mist, to his favourite cafés, even on expeditions to Tesco and Borders. Like so many of those Radio 4 plays, you don't see the sea but it's there in a background, as a symbol and a memory; almost as elusive as the artist's mother who puts in just one brief appearance.
When we lived in town we had a huge window over looking the harbour which dragged in every last drop of autumn light. Here we're often in the clouds and the windows are far smaller.
An ME sufferer, he tells us that these days he doesn't have the energy to paint the 'large messy landscapes' he used to but his eye for the extraordinary nature of our everyday surroundings gives his coffee pots, sauce bottles and treacle tins a Gaudiesque monumentality. There's a feeling of fable or of a children's story about the book; his drawings have so much character and humour in them. Objects take on a secret inner life.
A matter of a awareness
This quote, which ends the book - poetically placed against the tin of sardines from Portugal, still locked shut by their ring-pull key - could serve as his mission statement:
Each act is a rite, a ceremony. Raising a cup of tea to your mouth is a rite. Does the word "rite" seem too solemn? I use that word in order to jolt you into the realization of the life-and-death matter of awareness.

Thich Nhat Hanh, The Miracle of Mindfulness
I hope I get to share the rite of raising a teacup with Michael sometime soon. Most of my creatively laid back West Coast friends live thousands of miles away. But Aberystwyth is a bit closer to home.
Full Face

Yet another self-portrait, this time full face in a strong sidelight, for my attempt at the exercises in Betty Edwards' Drawing on the Right Side of the Brain. I think there's just one more self-portrait to go and then I look forward to drawing someone else (I've warned my artist friends Helen and John that I need a couple of models) but the advantage of self-portrait is that your model is always there for you and gets tired at exactly the same rate you do.
Take the Chair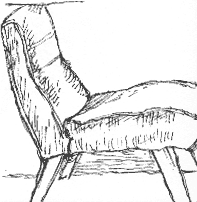 It's our AGM at Wakefield Naturalists' Society, and, according to the agenda 'Richard Bell has indicated his willingness to contine to serve on the committee''. Hey, I don't remember that! But it's a very good cause.
While the officers go through their reports there's time for me to sketch the two chairs propping up the screen. I think there's a definite Nobbsian influence to the one on the left. And I agree with Michael; the Staedtler mars professional that I've drawn it with comes close to being the 'perfect pen'. The biggest nib size, 0.7 has proved to be my favourite.
Tonight is a bit of a historical event: for the first time in 155 years Wakefield Nats are using a digital projector. Looking back at the Nats programmes from the early 1950s, there was a 'lanternist' on the committee; a reference to the cumbersome 'magic lantern' of Victorian times. How long before colour slides become a quaint memory?
John Gardner, our president, shows digital images of birds in flight shot in rapid succession. One weekend he took 2,000 images of red kites in flight at the Gigrin Farm feeding station and selected a few perfect images from them. It does seem a bit hit-and-miss but the results are some stunning images that you would be lucky to get using film.

Related Links
Wild Scenes; wildlife and landscape images by John Gardner ARPS
Richard Bell, richard@willowisland.co.uk