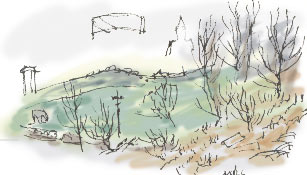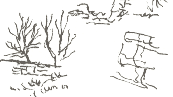 12.30 p.m. Frosted fields, bare hedges
The trouble with this line, between Dewsbury and Leeds, is that there's a long tunnel beneath Morley so my drawings are limited to the rocky cuttings, brambly embankments and stone-walled pastures along the way.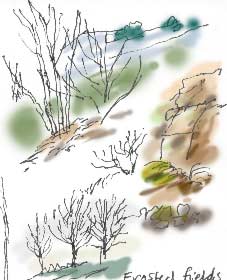 Almost a year ago, last February, I got on the train at Dewsbury with the commuters but stayed on to the end of the line, to enjoy a day of drawing at a windswept, rain-lashed South Bay at Scarborough. I published the results as the second of my Sushi Sketchbooks, This Distant Northern Sea.
I wish Barbara and I had the time to extend our journey today but, like yesterday and the day before, we're making the rounds of the bookshops to make sure that the books are in the shops in time for the programme on Tuesday.
I coloured the scanned images in Photoshop.


Richard Bell, richard@willowisland.co.uk