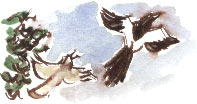 A treecreeper checks out our apple tree. This is the third time we've spotted it there recently. Hope it becomes a regular in the garden.
A mistle thrush chases a magpie around a holly tree by the school. There can't be a nest to defend in mid-January; evidently magpies aren't welcome at any time of year.
A kestrel hovers over rough, thorny ground on the slopes of Storrs Hill. The ground drops off so steeply that, as we drive by, we're on the same level as the bird; ten or fifteen yards away.
An Order for Borders
We're making a quick trip into Leeds along the motorway to deliver my Sushi titles to Borders bookstore. We'd never entertain driving into the centre on a weekday but, this afternoon, we're in an out within an hour. Waterstone's on Albion Street are also stocking some of my Sushis.

On the Canvas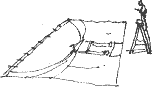 For the first time in over 30 years of painting scenery, I've got three blank canvases, each of them 12 feet high by 20 feet across. While our joiners are working on the baton for the first of the cloths and it's laid down on the floor in hall, I take the opportunity to lay out the proportions of the design by pacing it out but I still find I have to climb a ladder to check the proportions. When we hang it in place, I realise that I've made the pillars and pediment I've painted a little on the chunky side: considering the scale of the piece it's suprising what a difference just an inch can make to the proportions.
In our producer Wendy Wilby's version of Alice in Wonderland the Queen of Hearts is keen on gambling and she's trying to rig the game by throwing some of the playing card characters into jail. I immediately think of Las Vegas for her House of Cards scene.
Unfortunately, for technical reasons (the work involved in hanging all three backdrops) the Old MacDonald's Farm scene won't be a seperate backdrop for this scene. Shame, I was looking forward to painting that.

Related Link
Willow Island Editions - more about my Sketchbook Sushi titles
Richard Bell, richard@willowisland.co.uk