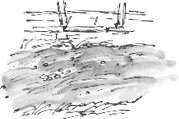 For me every sliver of silver lining seems to be accompanied by a big black cloud.
This morning a woman who I've never met before stopped me in the newsagents and said she saw me in the film last night and Coxley Valley looked beautiful - just like she remembers it from when she played there as a child.
This afternoon it doesn't look so good: our next door neighbour Sandra gets back from walking the dog, shocked that a stream of oily-looking water is coming down Gipsy Lane and polluting the stream.

It's only on Monday that the contractors for Bellway got into the field and now it seems that they've broken an old pipe - a relic from the adjacent industrial site - releasing thousands of gallons of opaquely grey, silty water into the beck. By the time I ring the Environment Agency's hotline, a neighbour has already reported the incident and an inspector from Leeds visits the site to assess the damage.

An ecologist's report emphasised the importance of the stream for bullheads - a fish that is rare in local streams. The incident has left a greasy-looking scum alongside the stream, and I fear that it might have wiped out some - or all - of the bullheads from this stretch.

Richard Bell, richard@willowisland.co.uk