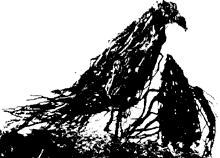 There's a restless dribbled inkiness to the lines in this study of crows by Huddersfield artist Pauline Gill but the image is actually a three-dimensional construction of twigs (see below), coated in some dark earthy mixture.
These are the kind of earth spirit crows that inhabit the poems of Ted Hughes. They're kin to the winged messengers who roamed the world on behalf of the one-eyed Viking god Odin; the ravens Hugin and Munin who returned every night, perched on Odin's shoulders and whispered their reports in his ears. Appropriately Pauline's raven isn't in the show as it has migrated to Germany for an exhibition in Berlin.
She tells us that the life-size family of storks, the centrepiece of her degree show at Batley School of Art this evening, was inspired by the captive pair at Harewood Bird Garden. She hadn't heard about the migrating storks which attempted to nest last year on a power line pole by the canal towpath a few miles down the valley near Horbury. This was only the second record of storks attempting to nest in Britain in the last thousand years; the previous occasion was 1416, on a church in Edinburgh.
I guess that, like a lot of artists, she tuned into something that's in the air. This pair brings back memories of the magical, incongruous sight of these rare continental visitors wheeling about over our local fields and woods. Appropriately, for West Yorkshire storks, they have rhubarb leaves incorporated into their wings. The veins of the rhubarb flow along the wing, giving the birds a prehistoric look, as if they're part pterodactyl.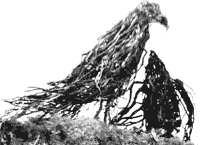 Pauline plays a tape of the bill-clacking duet of storks on the nest. Again its such a strange prehistoric sound, like aborigine music; the sound you'd expect a bird made from branches, twigs and rhubarb leaves to make.
I guess that young stick-birds should be called twiglets.
The Batley Show moves on to London next month.

Richard Bell, richard@willowisland.co.uk