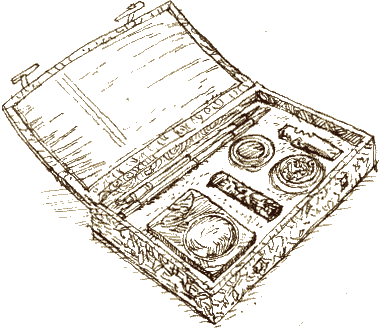 For a few pounds you can buy these beautifully made Chinese brush sets at bargain book stores (at The Works, for instance).
It's a good subject to draw (using my Parker fountain pen) but can you use those brushes, or are they intended as decorative curiosities?
I rub the ink stick (left, centre) in the concave depression on the rectangular stone palette, then add some water (I don't know whether you're supposed to add a little water first - it seems to work either way).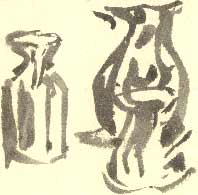 The brush probably isn't artist's quality but holding its bamboo handle tends to make you sit up straight and, hopefully, get into a calmly calligraphic frame of mind. In comparison, the seductively curved shape of the traditional western brush probably encourages you to become sensually expressionistic.
I copied the Chinese characters (left) from the lid of the box. I wonder what they mean - an inspirational quote or 'bargain ink and brush set'?
The item on the right is a stamp carved in soapstone (I guess) and the circular ceramic jar next to it contains red ink to use with it. You can carve your own design into the square end of the stamp.

Richard Bell, richard@willowisland.co.uk