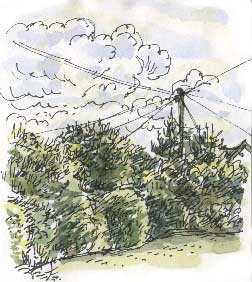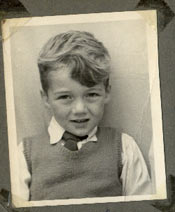 HOLLIES, LAURELS AND BOX bushes, a red horse chestnut and a beech, which was originally variegated but which has now mostly reverted to green, surround the front lawn of my mum's Victorian house. This was a wonderful place to grow up; I remember, when I was four or five and we'd just moved in, I squeezed my way around the perimeter of the garden between the shrubs and the wall; the garden was ten times the size of the one around our previous home.
I remember being astonished when, squeezing behind the slender fern-leaved beech tree (which I think has since died away), I was convinced that I heard the cowboy hat that I was wearing squeak! That must have been a tight corner.
In the mid-1950s Horbury was a sootier place than Wrenthorpe, where we had lived previously, and when I emerged at the other end of the shrubbery I had picked up black marks from the shrubs that I'd brushed against. By the river at Horbury Bridge, five or six factory chimneys added their fumes to those of the coal fires of the houses around us.
Laurels, which have glossy leaves, were able to shrug off grime and this is probably why they were a popular choice for shrubberies around Victorian villas.