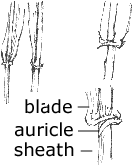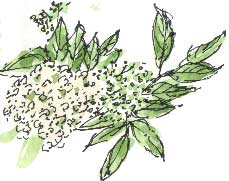 MY PORTABLE WATERCOLOURS etc., that fit comfortably into a bumbag, prove useful this morning when I'm waiting for Barbara who's got an appointment in Normanton. There's a sport's field nearby where I stand in the warm sun and draw the musky-scented elderflowers on the rough boundary of the field. How rare for drawing on location to be as comfortable as this for me. I rest my sketchbook on the bumbag, which I've swivelled around to the front like a kangaroo's pouch.
I can't use dip pen and ink when I'm standing up like this, so the blossom is drawn in 0.7mm Staedtler mars professional fibre tip.
I don't know how long Barbara will be, so I pick a stem of wall barley, a grass of waste places and disturbed ground and draw that inside as I wait for her.
It's surprising how much detail you see when you sit and draw but, even with my reading glasses on, I feel the need to use a hand lens (also packed in my bag) on the joint where the leaf sheathes the stem.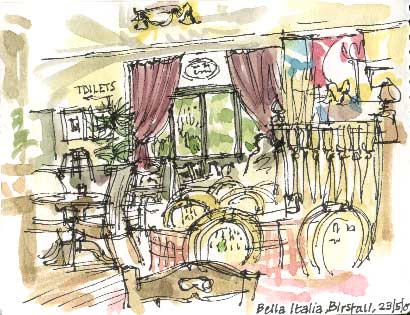 Without the hand lens I can make out a flimsy band around the stem, with the lens I can see that these are two wispy pennants, folded across each other as someone would fold their arms.
Technical term:
auricles: appendages which project from the collar at the junction of the grass blade and sheath that clasps the stem. Auricles may be long and clawlike, short or absent altogether.
Bella Italia
But I can't draw in the meadow all day; we've got a pick up (then assemble, that's the challenging bit) a bedside cabinet from Ikea so we have lunch at the Bella Italia, Birstall. I'm surprised when the waiter recognises me as the chap who was sketching there before Christmas:
'How did it work out?' he asks, 'you were going to use the drawing for a stage set weren't you?'
'Yes, I drew those copper pans around the arch and they became a stall in 'the Old Bazaar in Cairo', with a Sphinx sitting on top of it; I was pleased with that, it turned out well considering I just climbed up a step-ladder and painted it. There were palm trees and a couple of pyramids, so people would realise that it was Egypt!'