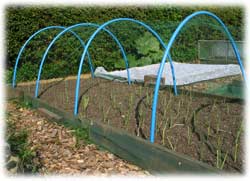 I'VE BEEN ABLE to fill one arm of an L-shaped veg bed – a 10ft x 4ft (3 x 1 metres approx) section – with the leeks we planted 2 or 3 months ago in a large flower pot of multi-purpose peat-free compost on the back bedroom windowsill.
It's surprising how many plants the thinly sown seed has produced. In the clumps in the middle there are so many that there's hardly a crumb of soil between them. Some are thin and twisted where they've struggled to grow in the cramped conditions but I decide to give every one of them a chance to flourish: leeks are pretty tough and these should give us a crop from the summer right through into the winter.

I've planted them in staggered rows 6 inches (15 cm) apart. If I start by harvesting alternate plants as baby leeks in the summer, I can leave the remaining ones to continue to grow for use during the winter.
As usual, because of the resident rabbits, I put hoops and garden netting over them.