Rafan Khan, chef at the New Paradise, Horbury

RAFAN, chef at the New Paradise Indian Take-away, Horbury, started helping out in the kitchens when he was 14 and was fully qualified by the time he was 18.

'Cooking is more than my job, it's my hobby as well.' he says, 'It's what I've always wanted to do.'

He occasionally visits the local primary school and gets the pupils making onion bhajis.

I drew him on Saturday evening as he prepared our chicken korma, potatoes & spinach and fried okra with a garlic naan bread. Delicious. Hope he gets his own restaurant some time soon.

Common Things
Simon's Seat, Wharfedale, North Yorkshire,
by Chaing Yee

' The whole landscape in that part of Yorkshire—the hills, trees, cottages, rocks, stone walls—is covered with a very thin bluish layer and looks soft and tender, yet untouchable. To me it is in this misty atmosphere that Simon's Seat is at its best. I like it so because it is easy to catch it in this mood, for dull misty days predominate in the Yorkshire dales, and I prefer common things to exceptional ones. In England one will often be disappointed if one waits to see a fine piece of scenery on a sunny day ; the weather is not very reliable.'

Chiang Yee,
The Silent Traveller in the Yorkshire Dales, 1941
A Gap in my Sketchbook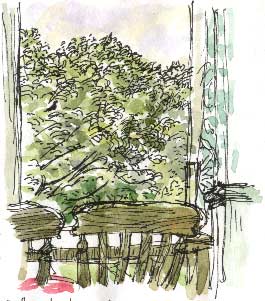 There's a gap in my sketchbook for the end of May and beginning of June. I went down with a cold which lingered far longer than it should have. Unable to draw, I launched myself into mindless tasks that I could complete on auto-pilot; clearing the garage, double-digging the last veg bed, laying down a wood chip path next to it . . .
Perhaps I should have a cold more often; I get more everyday tasks done but the blocked up nasal passages, the sore throat, tiredness and the throbbing head (not to mention the nightmares, such as being chased around the gantries backstage at a theatre by two ferocious polar bears) are too much to cope with!
Last Paradise
As a respite from feeling so awful, I've been reading what for me is a nostalgic natural history book; The Last Paradise by Helmut Handrick, published in 1957 is a large-format photographic essay on a green oasis to the north of the industrial Ruhr Valley. I remember browsing through it in the SPCK bookshop, in Leeds, and being astonished at the glossy full-page colour photography - at a time when so many natural history books were still in black and white or had matchbox/postage stamp-sized colour illustrations. I was delighted that almost every bird, flower and animal he included was one that I could have seen myself on my own local patch.
I was even more astonished when my mum asked if I'd like to have a copy of it; it oozes a quality that seemed way beyond anything I could aspire to. After 50 years there's still a 'new' smell of varnish which brings back the awe I felt at the sumptuous treatment of familiar subjects. It was a present for my eighth or ninth birthday but until now I don't think I've ever read it right through, although the photographs are imprinted on my memory.
Like Handrick and Chiang Yee, I'm fascinated by what I see on my local patch. Like them, I prefer common things to exceptional ones - if I have a day when don't see a one-in-a-lifetime sunset or a first-for-Britain bird species I don't feel that I've wasted my time. You can still get that sense of wonder from common, everyday things.