Red Squirrel
Richard Bell's nature diary, Cumbria, Monday, 6th October 2008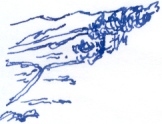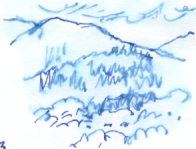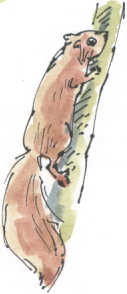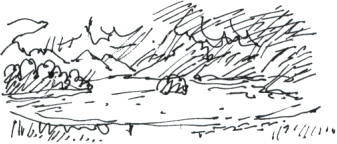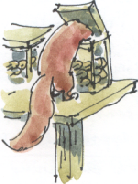 IT'S JUST 20 minutes since we parked up, put on our hiking boots and started walking and we've already seen a red squirrel, which we often don't see in a whole week in the Lake District. This was visiting a box, apparently filled with acorns, at the bird feeding station in Hope Park, Keswick.
Peep-holes in the wooden fence around the feeding station enable you to observe without disturbing the wildlife.
After this reminder of Beatrix Potter's (1866-1943) Squirrel Nutkin, so close to 'Owl Island' (St Herbert's Island) where Nutkin loses his tail, we walked on along the shores of Derwentwater to a place associated with another writer, artist and naturalist who chose to live in the Lake District.
"The first thing which I remember as an event in my life", John Ruskin (1819-1900) recalled, "was being taken by my nurse to the brow of Friar's Crag on Derwent Water."
It was his first experience of the sublime. This afternoon, the view down the lake included so many of the elements of Lakeland scenery celebrated by painters and poets: distant mists, cloud-capped summits, beams of sunlight and craggy brows above dense woods running down to the lakeside . . . there was even a small patch of blue sky.
As the forecast for the rest of the week isn't too promising, we're making the most of this afternoon.
It's been too long since we last visited the Lake District and for the last 2 or 3 years I've been more familiar with the fells as seen in Julia Bradbury's Wainwright Walks series. I enjoy the contrast of Bradbury's energetic cheerfulness with the curmudgeonly quotes (laced with dry humour and awestruck wonder) from Wainwright's guides but on the small screen, even with swooping helicopter shots, you never get the impression of brooding bulk that you get standing here on the shore, looking across the lake towards Cat Bells.