Cartmel
Richard Bell's nature diary, Cumbria, Thursday, 13th November 2008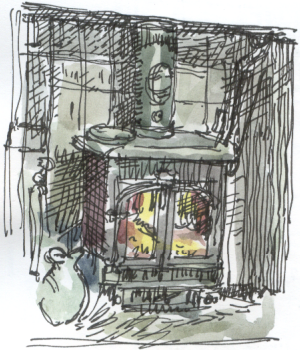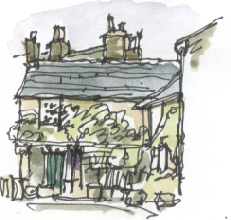 WE'RE BACK AGAIN in Cumbria, this time at the Cartmel Peninsula down just beyond the boundary the Lake District National Park at its south eastern corner.
The village of Cartmel (right) has a church that rivals some cathedrals in its scale. Until the dissolution of the monasteries it was a Priory and, when we take a look inside, I find that the space and the spirit of the place is very much what I have imagined a medieval monastery church would be like when I've stood amongst ruins, for instance at Fountains Abbey.
I've visited plenty of cathedrals, some of which were formerly Abbey churches, in the centre of busy cities but the calm silence that permeates this small village on this grey, damp, week-day afternoon makes this more like an experience of stepping back in time.
At our friends's house, I draw the wood-burning stove which supplies them with central heating and hot water throughout cooler months of the year. One delivery of logs is enough to keep them going all winter. The logs are neatly stacked in an open-sided timber store by the vegetable patch.