Hampsfell Hospice
Richard Bell's nature diary, Cumbria, Saturday, 15th November 2008
We managed to negotiate slippy limestone blocks on the fell, a green lane that was more like a water-course that a path and, on our return to Grange over Sands, steep woodland paths carpeted with wet autumn leaves but, just as we reached the tarmacked pavements of Grange I stood on an apple that had fallen from a tree that overhung a high stone wall. Luckily I didn't break any bones but the sudden twist to my ankle resulted it swelling up like an apple and today I've got purple bruising coming out over a triangular area around the ankle.
A course of Ibuprofen and rest should put things right again but it meant that we weren't tempted to take one last short walk in Cumbria this morning before setting off home through the Yorkshire Dales, pausing only for a mug of rich, chocolatey Sumatran latté and hot buttered crumpets at Country Harvest near Ingleton.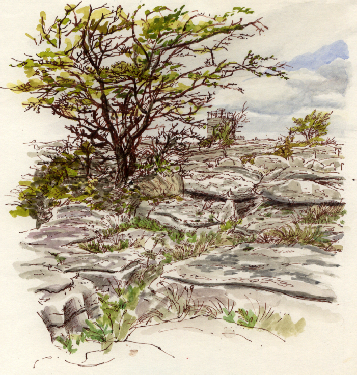 IN HIS Pennine Way walking guide, Wainwright warns of the propensities of limestone pavement to cause broken legs. On our walk over Hampsfell yesterday we paused to look at a small summit plateau of limestone pavement dotted with a few windswept thorn bushes; it would provide a suitably ancient, other-worldly setting for an encounter with Lord of the Rings characters. We stopped to drink a flask of coffee sitting on limestone benches alongside a small and suitably Tolkienesque square tower called the Hospice, provided by a Victorian benefactor as a shelter for walkers.
I drew the pavement and hospice (left) in May 1980 when I was working on my Richard Bell's Britain sketchbook.