Changes of Scene
Richard Bell's Wild West Yorkshire nature diary, Thursday, 20th November 2008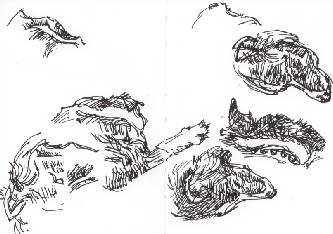 OUR TRAVELS in the last week have taken us from Morecambe Bay on the west coast to the Dinosaur Coast at Scarborough on the east with a short break in between to make a start on the scenery for Snow White and the Seven Dwarfs for the Pageant Players at the their new home in the assembly hall attached to the light and lofty mezzanine entrance hall to Horbury High School.

A start on the dwarfs' cottage.
But it's great today to get back to some everyday errands and take a few minutes when I find myself waiting here and there to draw whatever is around me.
Sox the border collie at Rickaro bookshop is doing well after being very ill with an infection. She's sitting up and taking notice again.
I drew my hand (above) in Staedtler Drawing Pen, which is waterproof, for the pen and watercolour sketch above but as Sox is black and white I switched to my Rotring ArtPen with the smooth-flowing 'M' nib.
Drawing is such a good way of winding down after a busy week and I like the way the ArtPen just flows along as I draw the chimney. Chimneys are ideal if you've only got a moment: they're a complete architectural detail in themselves and, if you find you have a little more time to draw, you can start adding the surrounding roof.