Day Trip
Richard Bell's nature diary, Wednesday, 26th November 2008, page 1 of 2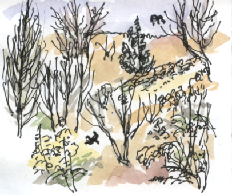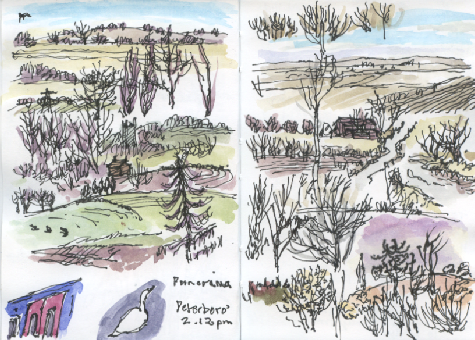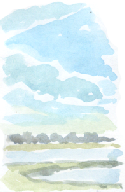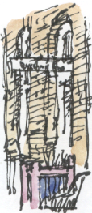 AS MY DAMAGED ankle appears to be in working order again, I can't resist doing my usual (usual when I'm in London, which I haven't been for 2 years) walk from Kings Cross to the Royal College of Art via Regent's Park, Baker Street and Hyde Park. The trouble is that it was dusk by the time I got to Kensington Gardens and I found that they'd closed Queen's Gate. I had to ask a park patrol the way out.
It was the first time that I'd been in the park after sunset; the old stag-headed sweet chestnuts on the slope behind the Peter Pan statue took on even more of an elemental presence as I walked up towards the G.F. Watts' statue Physical Energy.
London Zoo, which I'd walked past earlier, continues to change. I was surprised to see llamas in what had been the elephant enclosure. I was at the zoo some years ago when the last of the elephants (or was it the last rhino, I can't find it mentioned in this online diary) was transported to the Zoological Society's more spacious Whipsnade Zoo.
Silvery Streets
The silvery greys and grubbily mellow yellow brick of London streets remind me of the grimy Impressionism of the Euston Road School but whenever I'm walking through the city as dusk approaches I find myself thinking of Carel Weight's (1907-1997) paintings of leafy London squares which invariably have a wistful wraith or two gliding through them.
For me London is like that; a little worn at the seams, not as smart as Paris but with plenty of secret corners, layer after layer of history and haunted by wistful memories. This afternoon I walked through many of the places I knew as a student in the 1970s but I was also reminded of trips we made into London while on a family holiday in Buckinghamshire in 1958, when I was aged 7.
It was the first time that I'd visited the Natural History Museum, which I've returned to many times since, and also my first visit to the Science Museum next door. I have vivid memories of the interactive models in glass cases in a downstairs gallery in the Science Museum but I haven't explored its further reaches since that first visit just over 50 years ago.
Sketches made on the train from Wakefield to Kings Cross.