Return of the Stork
Richard Bell's Wild West Yorkshire nature diary Monday, 9th June 2008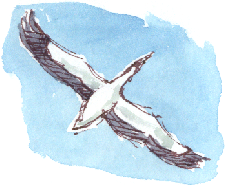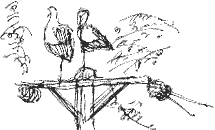 8.40 a.m., slight breeze, sunny, blue sky
'IS THAT a big gull?' said Barbara. My first thought was that it was a heron but it wasn't flying in that hunched up way that herons do. It also had a kind of laid back ambling ease to its flight whereas herons seem to look grimly determined to me. Perhaps it was negotiating its way around the pylon when we first saw it.
As it flew towards us, for a moment I thought of snow goose and, compared to a heron, it did have a goose-like head but the dagger-like bill and black trailing edge to its wings made it unmistakable as it flew over our garden. Those fanned primaries give it a bit of the look of an eagle.
This was the first record of wild storks attempting to nest in Great Britain since a pair nested on St Giles Cathedral in Edinburgh in 1416.
In the spring of 2004, the two birds had been tracked on their journey across England from France - you could hardly miss them! - but, astonishingly they were joined by a third stork, which I believe was an escape from Harewood Bird garden, familiar to birdwatchers as it spent a lot of time at reserves on the Lancashire coast.
The RSPB, in conjunction with Yorkshire Electricity and British Waterways erected an alternative nest platform for them but the birds preferred their power line pole.
Perhaps ours was the Harewood bird, checking out the old nest site. A stork was seen in the Leeds area yesterday.
Local television and the national press covered the event:
Storks set to end 600-year wait (BBC News)
'Open farmland with access to swampy river-sides, marshes and floodlands' is how the Collins Bird Guide describes the habitat of the stork and that's a fair description of the Calder Valley Wetlands at the Wyke and the Strands between the River Calder and the canal at Horbury Bridge.
When we first saw it, it was by the pylon at grid ref. SE 281 173 which less than a kilometre from the power line pole (then not live!) where a pair of storks started building a nest in on 17th April 2004:
They stayed around for a number of weeks while birdwatchers gathered on the canal towpath - right underneath the pole!