Robin Hood's Bay
Richard Bell's nature diary, North Yorkshire, Tuesday, 2nd September 2008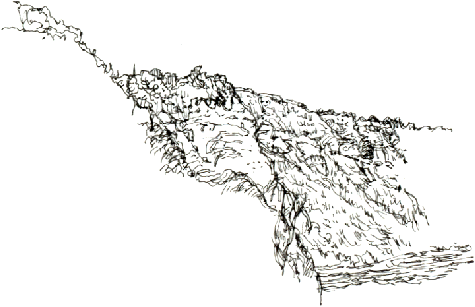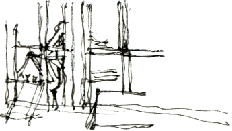 Looking north from the grassy slope above the coastal erosion defences towards a rocky shore marked on the map as Dungeon Hole.
TO KEEP LIFE SIMPLE, I've brought just three pens on holiday; I opened a pack which included a 0.1, 0.3 and 0.5 Pilot Drawing Pen. Taking the finest of these, I drew the vegetation-covered cliff-top, the horizontal beds of harder rock in the upper cliff, the landslips below and the scars of rocks laid down in Jurassic seas that, as the tide comes in, are still exposed on the foreshore.
Browsing by the Bay
I find a copy of May Theilgaard Watts' European travelogue/naturalist's sketchbook, The Countryside Around You, in the largest of the secondhand bookshops down in the (former) fishing/smuggling village of Robin Hood's Bay, then we climb back up the steep hill for lunch - tomato & basil soup - at Candy's Café and Tearooms (left).
Talking of books, I'm delighted to see that the National Trust shop in the old Coastguard Station stocks my book Yorkshire Rock, which features some of the fossils you can find on the beach here.