Charlotte and Friends
Richard Bell's Wild West Yorkshire Nature Diary, Friday, 12th February 2010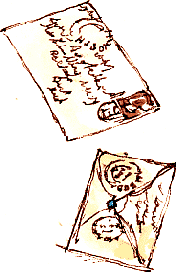 ON OCTOBER 23rd, 1847, Charlotte Brontë posted this envelope in Howarth to her friend;
Miss Ellen Nussey
Brookroyd
Birstall
Leeds
The second envelope has two postmarks on the back; it passed through Bradford post office on 14th October 1845 and through Leeds the following day. The little blue diamond-shaped sticker which Charlotte sealed the envelope with reads 'Be True'.
I drew these this afternoon at the Red House Museum at Gomersal in Kirklees, West Yorkshire. The interiors of this red-brick villa have been restored as they might have been in the 1830s when the Taylor family lived here.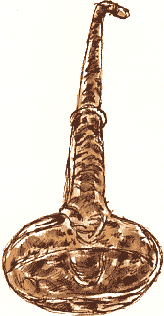 Charlotte wrote to Ellen on 15th April 1839: ' . . . the society of the Taylors is one of the most rousing pleasures I have ever known.'
'[Charlotte] visited us twice or thrice,' Mary Taylor told Elizabeth Gaskell (Life of Charlotte Brontë), 'We used to dispute about politics and religion. She, a Tory and clergyman's daughter was always in the minority of one in our house of violent Dissent and Radicalism.
The tortoiseshell ear trumpet (right) is believed to have been used by Ellen Nussey in later life. It features in the current exhibition about Mary Taylor in the Red House.
Ellen outlived her two friends: Charlotte died in 1855 aged 38, Mary in 1893 aged 76 while Ellen died aged 80 in 1897.

Rooftops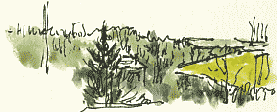 Here are a couple of sketches made from the Bella Italia at Birstall, looking towards the M62.
Links
Red House Museum , Life of Charlotte Brontë by Elizabeth Gaskell
Technical Note
If this web page has retro look it's because I'm going back to using my old Dreamweaver MX web design program. I haven't been able to get over the formatting problems I've had when using Serif WebPlus X4 with my new Windows 7 computer despite a great deal of help from the Serif web community forum (my thanks again to them) and the technical people at Serif. Web Plus is a great program but there's some strange conflict with my new system. I'm sure that I'll miss it but for the moment I have to admit I'm quite enjoying going back to my 2002 version of Dreamweaver! It feels as if I'm getting back to basics and I feel a bit of nostalgia going back to html code.