Robin and Rhubarb
Richard Bell's Wild West Yorkshire Nature Diary, Sunday, 28th February 2010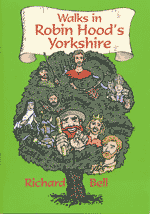 IT'S BEEN quite a week, with me leading a couple of walks through misty, sleety, muddy rhubarb fields and signing copies of my Walks in the Rhubarb Triangle and its new sequel Walks in Robin Hood's Yorkshire at the Rhubarb Festival in Wakefield yesterday. I even had a brief mention in The Independent on Sunday this morning! Susie Mesure reports that the Festival;
'kicked off on Wednesday with the local author Richard Bell's "Rhubarb Triangle Walk", organiser Hazel Birdsall expects around 100,000 people to pass through, despite foul weather conditions that forced the postponement of the "Rhubarb Run", an annual race for primary school children.'
It was busy today in the marquee on the cathedral precinct and I was especially pleased to sell a copy of Robin Hood to a woman from Nottingham whose first reaction had been 'I hate it when they say he was from Yorkshire!' but after I'd told her how you could find yourself in Barnsdale Forest without realising you'd left Sherwood, of Henry de Faucumberg of Wakefield who rose to become not only Sheriff of Nottinghamshire but also Sheriff of Yorkshire and that my account of the Wakefield 'Robin' ends when he rides with the king into Nottingham . . . she forgave me and I signed her a copy (adding a 'Wish I was back in Nottingham!' thought bubble to the picture of Robin on the title page).
Nature Shelter
On Thursday I enjoyed spending a day at my old school Wrenthorpe Primary in the south-eastern corner of the Rhubarb Triangle. A 1955 (possibly 1956) school photograph (right) shows me taking tea (how little things have changed) by the Wendy House in Mrs Clegg's class when I was 4 years old.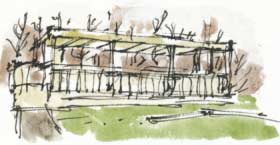 I found it quite emotional revisiting my old school, eating dinner in the same 1950s school hall, while chatting to today's enthusiastic pupils. 'I want to be famous for saving animals' one girl told me.
I'd been invited to open the school's new outdoor classroom (left), set amongst the alders, hazels and oaks of their wildlife area. I joined some of the children in the afternoon to draw branches, leaves, catkins and the shelter itself.

Leaving the Rhubarb Triangle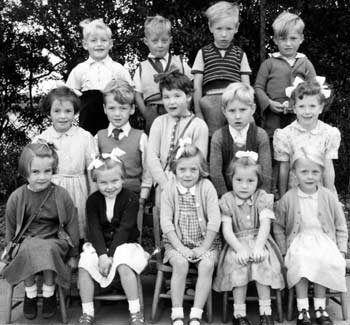 Our family moved to Horbury half-way through my first year in school so I know that any memories that I have involving Wrenthorpe date for that far-off time; pre-space age, pre-rock and roll.
During my final session with the older classes, one girl asked me 'What made you decide that you wanted to draw?'
I told her that I thought it could have something to do with leaving Wrenthorpe. The boys and girls in the class photograph (left) would have become my social group and even today I might still be bumping into to one or two of them. I'd probably know how life turned out for many of them; as it is I don't remember their names (except that I'm convinced the boy at the top left was called Lucas and that he was collecting silver paper in order to buy a tractor, presumably for charity, but the image of making a tractor from silver paper has stuck with me). The girl's teacher remembered me though - she lived just across the road from us on Ruskin Avenue.
I made new friends as soon as I started at Clifton Infants, Horbury, but I suddenly lost those familiar companions with whom I'd started school. They all suddenly vanished from my life. I don't think I've ever quite got over the feeling that I'm a kind of visitor from another planet; that I'm observing a world that I don't 100% belong to.

The Wild Frontier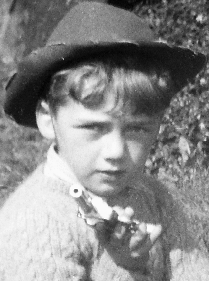 In those baby boom years there were always children playing along Ruskin Avenue and visiting each other's homes but in Horbury we'd moved to a large Victorian villa in a leafy backwater which most of my new classmates rarely if ever visited.
I remember putting on my cowboy outfit and attempting a perimeter walk around the dense Victorian shrubbery of soot-sprinkled laurels and hollies. The ivy-covered rockery was a great place for dens. As I squeezed past the slender trunk of what I later learned was a rare fern-leafed beech I was convinced that my cowboy hat squeaked! I went running back to tell my mum of this strange incident.
I'm sure the mysterious jungle of the shrubbery and the character of the Victorian house and grounds must have fired my imagination. Having long quiet periods on my own gave me an opportunity to create my own worlds through drawing and, from the age of 7 or 8, I started to write and illustrate elaborate little booklets of historical stories and wildlife observations. I think that leaving the Rhubarb Triangle was a turning point for me.