Two Swallows
Saturday 22nd April 2000





Nature Diary
Rocks
History
Workshop
Links
Home Page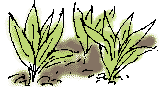 THE FIRST WILD GARLIC is in flower, behind the fence where the builders are to start work. After the rain, as we walk through the wood, the smell hangs in the air as we pass the drifts of garlic that grow by the stream. It's like walking past a taverna.

There's a fungus that looks like a shoe for an elephant on a Crack Willow by the stream. It looks like weathered leather, but below it is pale greyish, dotted with tiny pores.

Two Swallows are flying low around the stables on the Balk. A Sparrowhawk is on its rounds over the surrounding fields - putting up a flock of pigeons - and later one lands in our front garden hedge.
A small donkey grazing in a meadow by the canal has black streaks across its shoulders and down the middle of its tail, markings like those of a wild ass.
In the village man pushes a barrow decked out with daffodils, a miniature cave and three crosses. The Easter Garden on its way to the church.


Richard Bell,
wildlife illustrator
E-mail; 'richard@daelnet.co.uk'

Next day
Previous day
Nature Diary
Wild West Yorkshire home page