---
The Opium Eater

Wild West Yorkshire nature diary
Wednesday 18th August 1999
---
Nature Diary
Rocks
History
Gallery
Home Page
---


A BLUE TIT pecks at the base of one of the Opium Poppy seedheads. It's not just picking off insects and spiders. It pecks for a minute or two, then feeds (as far as I can tell) on the tiny round seeds inside. Perhaps half of the poppy seedheads have been pecked into in this way.

A Wren hops along the edge of the herb bed. Two Robins look a bit the worse for wear. The adults moult at about this time of year.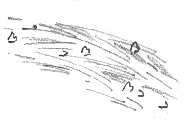 An hour's heavy rain turns the gutters into rivulets. The pond is brim full again.