---

Angel Pavement




Wild West Yorkshire Nature Diary,
Thursday 9th December 1999
---
Nature Diary
Rocks
History
Gallery
Links
Home Page
---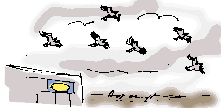 FROM THE RING-ROAD, near the Leeds United stadium this morning we see some 100 Lapwings; a ragged looking flock against the dull grey sky. Wild weather might have led them to the comparative shelter of the city. It is hard to believe there is enough open land for this to be a regular wintering ground.

A dull afternoon, and the Wildcats are in Thornes Park. Wakefield's rugby team, Trinity Wildcats are training on Lowe Hill. They sprint up the slope, three abreast, then, like the Duke of York's men, march back down again.

We stroll through the pocket-sized Millenium Green across the road, created on a spare grassy space by residents with the backing of the Council and the generous support of local businesses. Silhouettes of owls and hedgehogs decorate the iron fence and arched entrances. Children's drawings of birds and beasts are impressed in the terra-cotta paving bricks.


We walk across headstones, now laid to form a pavement, across the old Quaker Burial Ground on Thornhill Street. A herald angel blowing a trumpet once marked the grave of Joseph Rylatt, from Boston, Lincolnshire, who drowned, aged eleven in July 1835. The angel is one of the few decorations on the simple, sober Quaker headstones. What these stones lack in sentimental flourishes they make up for with their clear, confidently carved lettering.


Richard Bell,
wildlife illustrator
E-mail; 'richard@daelnet.co.uk'
---
Next page
Previous day
Nature Diary
Wild West Yorkshire home page

---