Border Country



Corbridge
Tynedale, Northumberland, Thursday 10th August 2000





Nature Diary
Rocks
History
Workshop
Links
Home Page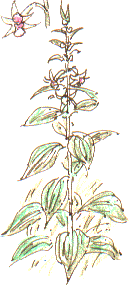 A SMALL GROUP of Broad-leaved Helleborine grows at the edge of the wood by the car park at the Collier Wood picnic site in County Durham. En route for Scotland we always like to take a short break here and stretch our legs for a few minutes by following the short nature trail.



After another twenty miles we take a longer break at Corbridge, where a stroll alongside the River Tyne gives us a change of scene. Growing from the edge of the path that leads down to the river from the corner of the town square is a small weed that looks like a miniature yellow-flowered version of Wood Sorrel. From its size it seems to be the small variety of Procumbent Yellow-sorrel, Oxalis corniculata var. microphylla, which originally grew in the mountains of New Zealand and Tasmania but which has been long-established in Britain as a garden weed.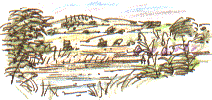 Six or seven Grey Wagtails are flitting about on a gravel bar across the river. The seedpods of Himalayan Balsam are swelling and becoming ripe for popping; there's a kind of coiled-up spring mechanism in the pod that 'explodes' the seeds over a distance of several yards.



A board in the town square by the church records William Wallace's visit; he burnt the town down (on at least one occasion). Robert the Bruce followed in his footsteps some years later, and burnt the town again. You expect a sign 'Corbridge welcomes careful invaders' as you enter the town and 'Thank you for calling, burn us down again soon', as you leave.

Fifty miles further on, over the border, signs direct you to 'The Wallace Statue'.




Richard Bell,
wildlife illustrator
E-mail; 'richard@daelnet.co.uk'

Next day
Previous day
Nature Diary
Wild West Yorkshire home page