Hogweed

Tuesday 5th September 2000, West Yorkshire






Nature Diary
Rocks
History
Workshop
Links
Home Page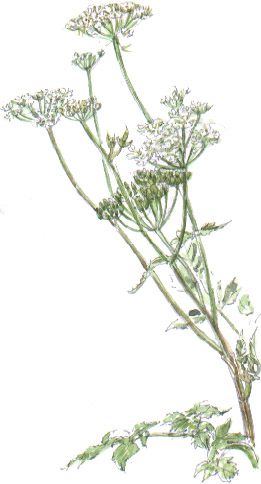 I HAVE TO BE CAREFUL when cutting back Hogweed. I once developed large blisters on my hand as a reaction to the sap. I believe that the chemical involved is more potent in sunlight.

It is a plant that I've often drawn; it has a long season; it can be seen in flower in spring, summer and autumn, even in a mild winter.



Take the time to sit and sketch any plant and you get a chance to notice the small details of its design. For example, the florets around the edge of the flat lacy umbels of hogweed have longer petals than the smaller florets clustered in the centre. The plant is a favourite with shorter-tongued insects, such as Hoverflies.

The seeds, shaped like little green trilobite fossils, are said to smell of swine when crushed.



It's an attractive plant to draw because of its obvious structure; the expanded leaf sheaths clasp the hollow ribbed stem. Unlike a lot of wildflowers it often stands alone so there isn't the problem of drawing something that is partly hidden, entwined amongst other plants. It stands tall enough for me to draw it in comfort. I'm able to sit on the edge of the raised bed to sketch, rather than crouching down amongst the grasses.



Richard Bell,
wildlife illustrator
E-mail; 'richard@daelnet.co.uk'

Next page
Previous page
Nature Diary
Wild West Yorkshire home page