Bacon-and-Eggs

Saturday 9th September 2000, West Yorkshire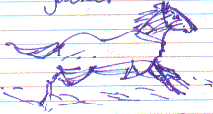 THERE ISN'T MUCH left of Kessy's horse blanket;
'This one was supposed to be the most thorn-proof,' complains her owner, 'we need one that is Kessy-proof!'





On a city centre grass banking, next to the main sorting office in Wakefield, two familiar urban weeds are growing; Dock and Oxford Ragwort (left)but there's also Birdsfoot Trefoil and Yarrow (right), plants that you are as likely to see on clifftops or heathland.


Birdsfoot Trefoil gets its country name of Bacon-and-Eggs because of the red streaks that are sometimes seen on its yellow flowers. Birdsfoot refers to the shape of its seedpods.

It's good to see that a plant that is so much part of the country scence that it has attracted more than 70 folk-names is still surviving, even here in the middle of town.



Richard Bell,
wildlife illustrator
E-mail; 'richard@willowisland.co.uk'

Next page Previous page Nature Diary Wild West Yorkshire home page