Brickyard Plantation

Monday 18th September 2000, 1/2, West Yorkshire





Nature Diary Rocks History Workshop Links Home Page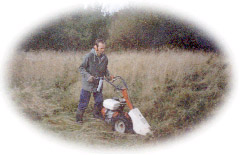 IN THE 18TH AND 19TH CENTURY fireclay was dug at West Bretton for brickmaking. A long row of cottages on the Huddersfield road out of the village is constructed of brick which had been made just a few hundred yards away. The organic content of some bands of the local clay makes it economical to fire.

In the 1990s clay from a field to the north west of the village was used in the manufacture of drainage pipes. A few of those pipes were used in the construction of artificial Badger setts, but there's another way in which the extraction of clay has contributed to conservation.



An old clay pit gives its name to Brickyard Plantation to the west of the village. The derelict pit was used as a rubbish tip until the 1960s. Thirty years later this former industrial site has become a nature reserve, managed by the Wakefield Naturalists Society. Well, I say we manage it, but we rely on the occasional help of the British Trust for Conservation Volunteers and an annual visit from a tractor-mounted flail mower, courtesy of Job Earnshaw Timber Merchants.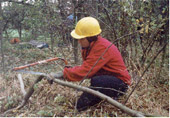 The photographs show mowing and coppicing at the Brickyard in the autumn of 1998 by local groups of the BTCV. Volunteers came from as far afield as Seacroft and Normandy (a student who was staying at Leeds at the time). They also coppiced a small section of the Ash saplings that border the reserve.

Related Link
The BTCV in West Yorkshire.



Richard Bell,
wildlife illustrator
E-mail; 'richard@willowisland.co.uk'

Next page Previous page Nature Diary Wild West Yorkshire home page