The Shadow of the Tower

Clifford's Tower, York, Tuesday 19th September 2000, 1/2





Nature Diary Rocks History Workshop Links Home Page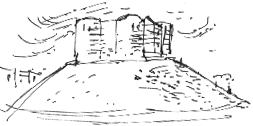 FOR ME, York still has a lot of the excitement and magic that it had when I first explored it on school trips or on visits with my parents.

The park-and-ride bus drops us by Clifford's Tower. These notes, and the historical comic strip, are from a visit I made in the summer holiday 1967, when I toured the whole city in just one day (not recommended).



The Clifford's Tower motte was the second built in York by William the Conqueror. It was mounted by a wooden tower, which was burnt in 1190 when Jews of York, attacked by a mob, took refuge in it. It was rebuilt, again in wood.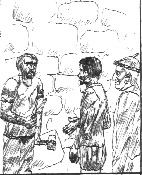 The tower was eventually rebuilt in stone, it has been known as Clifford's Tower since 1596, probably because Roger de Clifford's body was hung at its summit in chains after a rebellion in 1322. The castle of which the tower was part was the administrative centre of the county. In the 14th century it housed the King's and local courts and the county gaol. It was used less in the 15th century and fell into decay in the 16th.

A gaol-keeper, Robert Redhead, was stopped from pulling it down 'to his own profit' by the corporation.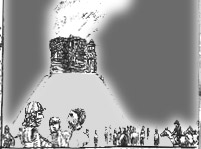 It was in Royalist hands in the Civil War until the Battle of Marston Moor in 1644 when the Parliamentarians took possession. It was still occupied until 1694 when a fire gutted it and consumed the interior.

From Clifford's Tower there's a bird's-eye view of the Castle Museum, the Debtors' Prison and the Assize Courts, the latter built by John Carr of Horbury in 1773 or 1777.

Related Links
On the GENUKI U.K. and Ireland Geneology site, Colin Hinson has searched through 'what seems to me to have been a mountain of books' to extract records and descriptions of the city.

TourUk icludes a guide to the castles of Yorkshire.




Richard Bell,
wildlife illustrator
E-mail; 'richard@willowisland.co.uk'

Next page Previous page Nature Diary Wild West Yorkshire home page