Pigeon's-eye View

Tuesday 26th September 2000, West Yorkshire





Nature Diary Rocks History Workshop Links Home Page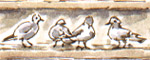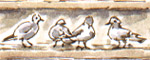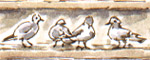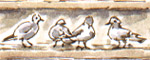 A GREY, RAINY morning on the Leeds Ring Road. Feral Pigeons shelter on their favourite south-east facing ledge, above the roundabout traffic on a motorway bridge.






















































































More surprising is a flock of Lapwings, at least a hundred of them (but perhaps not as many as my tiled sketch suggests!), wheeling above an industrial unit. Somewhere in Beeston, in this ring road landscape, there must be an open green space.




Back in the Calder Valley, in late afternoon sun, Pond Skaters glide about at the edge of a calm canal. A fish jumps, leaving a halo of a ripple on the glassy surface.



There's not enough sun to tempt out any bees or butterflies that may be about, but a small yellow Ladybird crawls on a dead branch. A Wren hunts in the tangle of plants overhanging the water. A few Crows stand in the stubble.

Toadflax, Tansy and Red and White Campion are still in flower, a last garland of a fading summer.

Related Link
Take a LIVE pigeon's-eye view; the BBC Leeds rooftop webcam shows the city skyline, including the university and, who knows, if you're lucky, the occasional pigeon.




Richard Bell,
wildlife illustrator
E-mail; 'richard@willowisland.co.uk'

Next page Previous page Nature Diary Wild West Yorkshire home page