Feeding Station

Sunday, 5th November 2000, West Yorkshire





Nature Diary Rocks History Workshop Links Home Page





WE'VE PUT a little more effort into feeding the birds this year by buying a sack of wild bird seed and adding a feeding station by the garden shed. It is proving worthwhile; 'White-tail' our Blackbird has become a regular again and this morning a Willow Tit, an infrequent visitor to the garden, joined the Blue Tits and Great Tits which are attracted to the peanuts and fatball.




After a respite in the rain the river level has begun to gently subside. It isn't back to its normal level but at least the top of the tall grass on the silt island is beginning to show again.

A Dabchick, also known as the Little Grebe, in greyish winter plumage, dives nearby.


Where have all the conkers gone?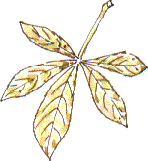 Surprisingly there are still some yellow leaves on the Horse Chestnuts but most of them are down on the ground now. I have an e-mail message from a reader;

This may seem a strange question but I was wondering where one may get hold of conkers, now that none are left on the trees.
I would be grateful for a reply if you can enlighten me on this subject!

It's one of those mysteries; a week or two ago there were hundreds of them, looking superb, with that beautiful deep sheen, lying beneath the trees. Now they all seem to have disappeared and, if you did come across one I'm sure it would be looking very much the worse for wear.

Surely they weren't all taken by squirrels and conker-gathering boys?



Richard Bell,
wildlife illustrator
E-mail; 'richard@willowisland.co.uk'

Next page Previous page This day last year Nature Diary Home Page