Ardsley Reservoir

Monday 13th November 2000





Nature Diary Rocks History Workshop Links Home Page



IN AN OLD BARN at a farm in West Ardsley near Wakefield there's a mullioned window built into the stonework. It is now entirely bricked up (my sketch shows a farm at Thornhill). The righthand window is blocked to halfway up with old handmade bricks, so it may have been filled in long ago. It doesn't look as if the mulliens have been inserted as recycled stone; they appear to be in their original setting. I guess that this barn incorporates all that remains of a substantial farmhouse, which may date from the 1600s.



I try to imagine the scene that the farmer would have looked out on from this window; no pylons and probably no mineworkings - they have come and gone since. When this window was new it must have offered a sweeping view over the medieval hunting park which lay in the valley below. In the 1630s more than 200 Fallow Deer roamed in the park which still belonged to the Lord of the Manor of Wakefield, as it had done since Norman times.


Gull's Eye View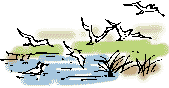 It's strange to walk along the shores of a reservior and look out over a panorama which stretches from the outskirts of Barnsley in the east, across the moors of the Peak District, beyond Penistone and over towards Huddersfield (from a point on the road nearby we glimpse the distinctive silhouette of Castle Hill). It's not usual for a reservoir to be built on top of a hill, but this was constructed as a storage reservior, for water that had been pumped from a larger reservoir up in the Dales. Today a group of Black-headed Gulls rest on a quiet promontary, until a passing dog disturbs them, while, out in the middle of the lake, there are a number of Lesser Black-backed Gulls amongst the Herring Gulls. Not a duck in sight; perhaps the water is too deep to suit them.

A Cormorant flies over.

In Westcourt Wood at the top end of the reservior we try to decipher a moss-covered inscription in large block capitals on a concrete block; it marks an 'OLD PIT SHAFT' that apparently closed in 'OCTOBER 1974'.



Richard Bell,
wildlife illustrator
E-mail; 'richard@willowisland.co.uk'

Next page Previous page This day last year Nature Diary Home Page