Beasts and Brickwork

Sunday 24th December 2000, West Yorkshire





Nature Diary Rocks History Workshop Links Home Page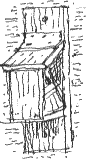 CALLING on my mum, I'm surprised to see that a Blue Tit nestbox that I put up years ago on the side of the house is still there. They don't make them like that any more; even the bicycle inner tube hinge that I put on it is still in place, but one of the walls has come adrift, so it's now looks like part of a blue tit shanty town in urgent need of re-development.

I made it around about 1967, following the instructions in an early issue of Bird Life, the magazine of the Young Ornithologists' Club. I made two or three of them, including an open-fronted version for robins, but as far as I know my efforts were shunned in favour of the officially approved Royal Society for the Protection of Birds box which we'd bought the previous year and nailed to the trunk of the

beech tree. It had a little brass label beneath the entrance hole. This evidently gave it the seal of approval for local blue tits.

The instructions for the home-made version in the old magazine suggest that you draw around a two-shilling piece with a sharp pencil to mark the correct sized hole for a blue tit. This wouldn't work today; the ten-pence piece, as it now is, has shrunk.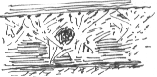 There is a row of spider's lairs tucked beneath the barge-boarding above my mum's back door. They're funnel-web constructions; the threads act as trip-wires to entangle prey, rather than trapping it on sticky threads. The spider runs out to snatch its prey then retires to its lair.



The tarmac drive in front of the house is now soft underfoot thanks to a green carpet of cushion moss which has covered a snooker table-sized stretch of the drive.



Richard Bell,
wildlife illustrator
E-mail; 'richard@willowisland.co.uk'

Next page Previous page This day last year Nature Diary Home Page