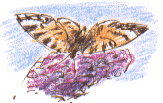 Vision Quest
Tuesday 22nd August 2000, West Yorkshire





Nature Diary
Rocks
History
Workshop
Links
Home Page



A PAINTED LADY flies across our garden, heading north - which is probably the direction in which it is migrating.

The long summer holiday;


'When-as the rye reach to the chin,
And chopcherry, chopcherry ripe within,
Strawberries swimming in the cream,
And school-boys playing in the stream . . .'
George Peele
Two boys leap into Millbank lock, laughing and screaming, swimming across to the other side as an older boy pursues them in mock chase.



Just downstream, under an old arch, a remnant of some industrial structure, someone has painted three stick-men. They remind me of the Native American rock paintings some of which were made by young braves who set out on their vision quest. The paintings represented spirit guardians and were often sited on conspicuous but inaccessible bluffs, so that they'd be seen by passing canoeists.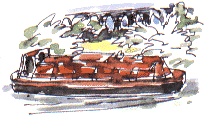 There are no canoeists on the canal today but at the Figure of Three locks a lesson in basic narrowboat skills is in progress. The man who hires out the boats and offers the basic training evidently spends most of his working life on or around water. It's strange to think that we have a waterman working amongst us in land-locked West Yorkshire.


Related Links

The Rock Art Foundation; Native American rock art in the Lower Pecos region of Southwest Texas.





Richard Bell,
wildlife illustrator
E-mail; 'richard@daelnet.co.uk'

Next day
Previous day
Nature Diary
Wild West Yorkshire home page