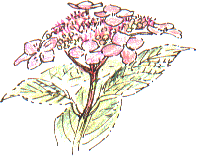 Life Under the Log
Sunday 27th August 2000, West Yorkshire





Nature Diary
Rocks
History
Workshop
Links
Home Page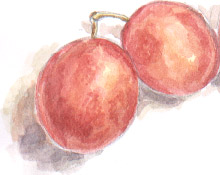 I SKETCH Lacecap Hydrangea and a few of the Victoria Plums from my Mum's garden. The Victoria Plum tree was old when we moved into the house in the 1950s. It still crops heavily most years, and in exceptional years the branches need propping up to support the weight of the fruit.

I enjoyed painting these almost life-size in watercolour, so my apologies for the extra download time. This must be one of the few pages in this diary where I've sketched everything from life during the day, rather than drawing from memory when I write up the diary on an evening. I'd like to include more sketches from life, so the file size of pages will probably go up.

In our garden, a young Blackbird has been attracted to the red berries on the Honeysuckle. It sits on the hedge for a minute or two, eyeing up the possibilities, then flies to a perch where two bunches of berries are in easy reach.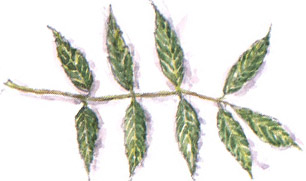 Ash trees have lost a few leaves in last night's thunderstorm. Moss grows at the foot of a trunk.


The Secret World of Woodlice




In my mother-in-law's garden I disturb a group of Woodlice as I move a wooden post that has been lying on a concrete path. They remind me of prehistoric creatures; such as Trilobites or the giant scorpions that roamed in the world's first forests. Their leathery-looking armour is jointed like that of the Armadillo. The antennae look like the bent legs on the crest of the Isle of Man. The antenna's simple but effective design, jointed like a desklamp, enables the woodlouse to feel the ground or any object or crevice it approaches.



They're members of an order of invertebrates called the Isopods, meaning 'equal legs', which refers to the seven pairs of similar legs. Their relations are found in the sea, on the shore and in brackish water. Woodlice are keen to find moist crevices so, when I catch a few in a plastic container, I offer them a damp piece of paper towel as I sketch them. They soon settle down in the folds.



The little 'tail' section is hinged against the body armour and, while the woodlouse sits at rest, every now and then it moves it up and down 10 or 20 times, like a pair of bellows.





Related Links
Woodlice Online; the structure, behaviour and adaptations of woodlice.

Woodlice on the Web; care, a couple of experiments, links and a key to commoner woodlice of Britain.

Woodlouse wizard an identification key.





Richard Bell,
wildlife illustrator
E-mail; 'richard@daelnet.co.uk'

Next day
Previous day
Nature Diary
Wild West Yorkshire home page