---

'A fancy ramble to the zoo'




London Nature Diary,
Saturday 5th February 2000
---
Nature Diary
Rocks
History
Gallery
Links
Home Page
---
LIKE SIMON AND GARFUNKEL, we head for the park for . .
'a fine and fancy ramble to the zoo.'
It's wonderful to leave 'tree-lined Queensgate', as our holiday brochure describes this canyon of a thoroughfare, and enter a parkland landscape with just the odd building half visible through the trees in the distance. You could be in the grounds of some stately home in deepest England.
The parks in Paris are impressive with their grand avenues of trees focused on some grand palace, or on the Eifel Tower, but I prefer the more relaxed, natural look of Kensington Gardens and Hyde Park.
A jogger runs by, pushing a baby buggy, the fashionable variety with three large wheels, as if in training for a new Olympic event. The baby is either enjoying it immensely or desperate to get out; he waves his little arms in excitement as he's propelled along.

There's a blue sky and we see our first Bumble Bees of the year, three individuals of at least two species, on the wing. Later, at the zoo, a rather dull looking hoverfly zooms in and basks for a while on a concrete pillar.
Hudson and Holmes


We pause at the memorial to writer and field naturalist W H Hudson (1841-1922). As if we've stumbled into one of his essays, a Blackbird bathes in one of the formal ponds while a Song Thrush sings from a nearby tree. A Grey Squirrel bounds over the neatly trimmed lawn and there's a Magpie perching in the trees behind. This enclosure was designated as a bird sanctuary in memory of Hudson in 1925. There's a decorative carving, Jacob Epstein's Rima, by the ponds but really it's the peaceful pocket-sized sanctuary itself that is Hudson's most fitting memorial.

Leaving the park at Marble Arch we walk along Baker Street. Sherlock Holmes is one of my favourite literary characters, when I want nostalgic, undemanding entertainment. There are striking parallels between detective work and natural history. I like the way that justice can be done, for example, by the close observation of the mud on a suspect's boots.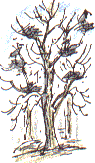 You don't have to walk far up Baker Street before you begin to see the trees of Regents Park in the distance. The main part of the Heronry here seems to have moved from the island marked as the Holme, which the birds occupied for years, to the island nearer the shore. In one tree I count seven nests.
At the top end of the lake, blocks of reeds have been planted, as they have in places alongside the Serpentine. I look forward to seeing how these develop as habitats. I wonder what might nest there in the future. A migrant Reed Warbler flying over London would easily spot the lakes and, once it had descended, would home in on the reedbeds, however small.
BP are experimenting with mini-reedbeds, each about the size of a refrigerator, to naturally filter the run-off from petrol station fore-courts. I hope it works.
The Ark in the Park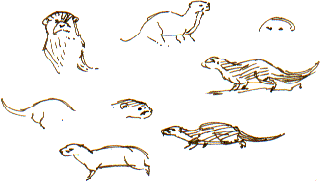 I like to focus on one animal when I'm at the zoo and spend an hour or two drawing it, but today, like most visitors, we make a tour of as much as we can take in, spending no more than a few minutes at each enclosure. We still miss out on half the animals on view.

I'm amazed at how many animals there are that I've never even heard of. I get an impression of the 'infinite variety', (as Attenborough describes it) of life on Earth. Each of these creatures is just a part of an eco-system that includes plants, insects, parasites, geology, climate, soils, and so on. In their native lands, almost all of them have some role in human culture; a story perhaps, a proverb or some folklore attached to them.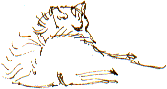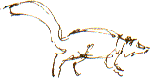 What if one of the cages held an animal from my local patch of countryside; a Fox, say. Would it give an onlooker who hadn't walked in our woods and fields a true idea of the animal in the context of its natural history?
Zoos have a much-emphasised role in captive breeding but I think another role is as an embassy for the Animal Kingdom. Can these animal ambassadors convince us that there is any life on Earth, other than our own species, that is worth saving?
When I was an art student drawing at the zoo my tutor, John Norris Wood, put it more strongly. After a trip to Zaire, he said that he felt that the threatened Mountain Gorilla should be given a seat at the United Nations.


Richard Bell,
wildlife illustrator
E-mail; 'richard@daelnet.co.uk'
---
Next day
Previous day
Nature Diary
Wild West Yorkshire home page

---