---

Leeks




Wild West Yorkshire Nature Diary,
Wednesday 9th February 2000
---
Nature Diary
Rocks
History
Gallery
Links
Home Page
---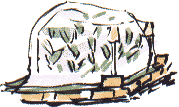 I'M PLEASED to harvest over 7 pounds of Leeks from a piece of the deep bed no larger than a hearth rug. The cloche of horticultural fleece over this bed worked well. Other gardeners have had trouble with spots of rust fungus on leeks; perhaps the fleece acted as a barrier to the spores, which may be transported in raindrops.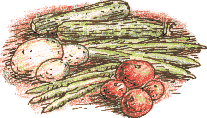 I removed the fleece in September, because I felt the leeks should be exposed to fresh air and frost, I think I've heard that frost is supposed to improve the flavour. We invariably use them in soup, or I should say, Barbara does. She's got one or two ideas of using them as a vegetable.
There's a handful of potatoes still in the ground. Considering that they're earlies, a variety called Winston, they've kept pretty well in the ground. About half have escaped being holed by slugs. I planted the potatoes through slits cut in a sheet of black plastic, a remnant of pond liner, which worked very well as a mulch for keeping down the weeds. I just rolled back the fleece to harvest each plant in turn.

A vole's tunnel system has collapsed in the middle of the lawn, leaving a hole you could catch your foot in. I fill it with garden soil and hope that, if it is still occupied, the voles can burrow out again.


Richard Bell,
wildlife illustrator
E-mail; 'richard@daelnet.co.uk'
---
Next day
Previous day
Nature Diary
Wild West Yorkshire home page

---