---
Hail Shower




Wild West Yorkshire Nature Diary,
Saturday 12th February 2000
---
Nature Diary
Rocks
History
Gallery
Links
Home Page
---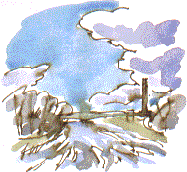 TOP HEAVY towers of cumulus pile in from the west across the blue sky. Hailstones roll along the pavement in the stiff cold wind, like crumbs of expanded polystyrene.

They bounce like ping-pong balls from tile to tile down the roof.




Scores of yellow Crocuses add their brilliance to the blossoms on Winter Jasmines in gardens along the road. Hellebore has put out its first flowers.

Strong winds send birds in search of shelter and I see hardly any on my short walk to the post office. A single Carrion Crow goes for easy pickings in the comparative shelter of the co-op car park.


Richard Bell,
wildlife illustrator
E-mail; 'richard@daelnet.co.uk'
---
Next day
Previous day
Nature Diary
Wild West Yorkshire home page

---