---
It's just Notton




Wild West Yorkshire Nature Diary,
Monday 14th February 2000
---
Nature Diary
Rocks
History
Gallery
Links
Home Page
---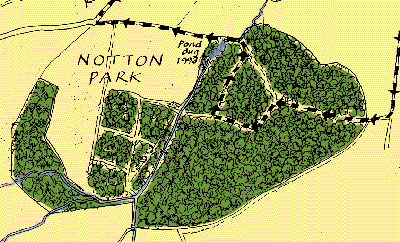 NOTTON PARK has an oval boundary on the Victorian map. This shape suggests an ancient wood rather than a later plantation. Most plantations have geometrical shapes since they were planted in a countryside already divided into holdings. The circular shape of some woods suggests that they were enclosed from a largely uncultivated landscape. A circular boundary is more economical to construct as it encloses the maximum area for the least expenditure in time and materials.

Since the Victorian period, a quarter of the wood, in the shape of an enormous pie wedge, has been cut out and is now farmed as arable.
On a previous visit I dug a shallow soil profile to examine the structure of woodland soil in an area of planted Beeches. A layer of leaf mould covered an inch and a half of black soil. Beneath that, sandy subsoil, the product of weathering of the underlying rock, went down a further five inches. The deeper I dug the more fragments of rock I found.


Keeper Lane, between the north east corner of Notton Park and the village, passes the site of a brick kiln. A few years ago I found this fragment of a clay pipe thrown up in excavations by the roadside.


Richard Bell,
wildlife illustrator
E-mail; 'richard@daelnet.co.uk'
---
Next day
Previous day
Nature Diary
Wild West Yorkshire home page

---