---
A certain amount of green




Wild West Yorkshire Nature Diary,
Wednesday 16th February 2000
---
Nature Diary
Rocks
History
Gallery
Links
Home Page
---
AS EXPECTED, the snow comes by morning. But it's a passing shower; the smudgy-edged grey cloud gives way to sunny blue skies within an hour. The fresh powdery covering, sprinkled half an inch deep over the slats of patio table, the lawn and the herb bed, transforms the garden for an only an hour or so, then melts away.

I make good progress on my latest book during the day, then, come four o'clock, it gets to the stage where something seems to be going mysteriously wrong with the computer. Time to turn off, go out, post a letter (I'm not going to have that excuse when everyone's on e-mail am I?), and take a half-hour's walk along the lane and back through the wood.

There are Wood Pigeons, Blue Tits and Magpies around as usual, nothing very remarkable going on, but I just enjoy the colours and textures of moss, bark, stone and water. They're such common elements of the countryside, and in terms of conservation importance they'd rank a long way behind rare orchids and endangered animals, but I think such everyday hints of wilderness are important to our well-being, to my well-being anyway.
The zoologist Miriam Rothschild says she thinks there is a physiological need for us to see a certain amount of green every day. We have evolved to need it.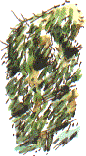 By the post box there's an old stone wall which acts as a retaining wall for the meadow behind it. It was probably once the back wall of a cottage. Thanks to the damp of the meadow and its north-facing aspect, it has a lush growth of feathery moss which is all the more striking because of the lack of green in surrounding winter landscape.

On a steep stoney hedgebank along another edge of this meadow, branches of an oak bear small clusters of tan-coloured Marble Galls. The gall wasps which spent their larval stages inside have left. There are a few exit holes, the size of a small letter 'o' in each gall. Of course, these holes could have been made by the gall wasp's parasites or by commensals (creatures which live as lodgers in the gall but do not harm the larva). There can be quite complicated domestic arrangements inside these galls, to say nothing of the bio-chemical scam which induces the tree to produce the gall in the first place.

Greenish-yellow Hazel catkins look good against the blue sky that has appeared between sleety rain showers. At this time of year I realise how much hazel there is dotted about the hedgerows.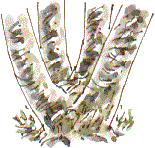 I walk past my favourite group of Crack Willows, around the pond with its dwindling band of Mallards and up the other side of the valley, past this multi-stemmed Sycamore trunk.
I could spend days drawing in this part of the wood. There are so many subjects that create inherent problems when you're drawing them, but I find tree trunks appealling because, although they have such strong simple form, they can have a lot of character (unless they're production-line timber in plantations). I feel that I'm drawing an entity that is more than 'merely' botanical. There's something timeless about such trees; a spirit perhaps, or an organic expression of a state of mind.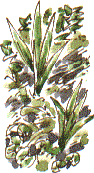 I could just imagine someone coming here and saying 'Let's improve the appearance of this woodland. For a start we'll get rid of those horrible old straggling willows, and plant some neat rows of a bright cheerful species that people like, such as flowering cherry.'
On the slope the glossy spiky foliage of Bluebell is pushing through and small, heart-shaped leaves of Lesser Celandine are emerging.


Richard Bell,
wildlife illustrator
E-mail; 'richard@daelnet.co.uk'
---
Next day
Previous day
Nature Diary
Wild West Yorkshire home page

---