On the Trail of the Wild Garlic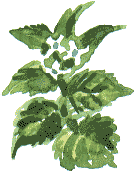 Some years ago Sharon Crowder, then a student at Illinois State University, wrote to me asking if I could help her find more information on garlic mustard for a lab report that she was writing
I have quite a bit of information on the subject, but despite it's unorthodox nature, I am contemplating including a recipe for in it. I'm rather sure that I will have a hard time convincing my professor that a recipe belongs in this paper, so if nothing else, I would love one for my own personal use. In my way of thinking, however, if we can understand the value that was placed on the plant years ago when it was used commonly (it has fallen to disrespect among American conservationists due to it's invasive nature, displacing native plants), it will add to our appreciation of the plant
Lora Conrad, who has been researching how to get rid of garlic mustard and how early settlers must have used it, tells me:
It's become a serious invasive pest in our woodlands here in southeastern Iowa along the Des Moines River. Like dandelions, it is everywhere. It's pretty in the spring, but does crowd out everything below it.
A pound a bunch!
In Flora Britannica, 1996, Richard Mabey writes;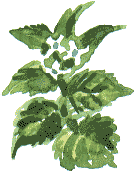 'Garlic Mustard or Jack-by-the-hedge, Alliara petiolata, is an abundant herb of hedge-banks and woods, smelling mildly of garlic. It has long been used as a flavouring: in sauces for fish and lamb in the seventeenth and eighteenth centuries, and as an ingredient for spring salads today. In 1993 it was being sold for a pound a bunch in a smart Italian delicatessen in London's Covent Garden. Jack-by-the-hedge is a biennial, and the soft nettle-shaped leaves can be picked from September, when they first begin to show, until late spring, when the brilliant white flowers appear.
'All Sauce'
David Bellamy sums up the its uses in Blooming Bellamy, Herbs and Herbal Healing, 1993:
'CONTAINS sulphur-rich heterosides, glycosides and an essential oil;
USES: (Classic and Herbal Medicine): condiment, warming body rub, poultices, diuretic and gout;
Homeopathic: rheumatism and asthma.
He writes that it was 'also known as 'All Sauce' as it makes a good all-round condinment.'
As Richard Mabey mentions, in the 17th century it was used as a flavouring for salt fish, roast lamb and in salad.
Related Links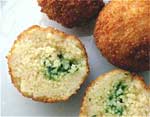 My thanks to Marcus Harrison and Lora Conrad for the following links:
Garlic Mustard Couscous Kievs from The Really WILD Food Guide
"Wildman" Steve Brill includes photographs and a watercolour of Garlic Mustard on his website and recipes for Garlic Mustard Pesto and Wild Mustard Seed Mayonnaise. Follow the links to 'Plants' and 'Recipes'. Garlic Mustard Pesto will be featured in Brill's The Wild Vegetarian Cookbook.
Richard Bell, richard@willowisland.co.uk