---

The Old Corn Mill




Wild West Yorkshire Nature Diary,
Sunday 9th January 2000
---
Nature Diary
Rocks
History
Gallery
Links
Home Page
---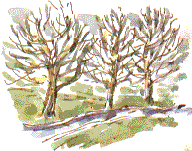 WE TAKE A WALK to an old corn mill which since the 1960s has been the premises of a camping store, Mitchell's. A row of Alders marks the stream and in the meadow alongside there's a display of tents. The old stone buildings of the mill have been restored. Something about the setting reminds me of the Pennine Dales.

On the old Ordnance Survey map it is marked as Cocking Mill, also known as Cock Hill Mill. A tramway follows the stream to connect collieries further up the valley with coal staithes by the canal.

The sense of continuity and human history about this setting is in stark contrast to the current trend in retailing. For example in Wakefield there's a shopping centre built on the beckside meadows known as the Ings. It was there that, in the days of Robin Hood, the town had its archery butts. The beck, Balne Beck , has been partly culverted, you'd easily miss it. It flows under the Burger King car park. All the old trees were removed and replaced by neat designer trees. One store has a vaguely Ancient Egyptian look to its facade but other than that these stores are identical to those you might see anywhere in the world. Bright plastic logos are given prominent display above the store entrances.

The latest of the stores constructed there is so monolithic (the designer omitted to include windows) and so off-putting that we've never been tempted to step inside.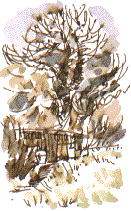 As the light starts to fade I make a brief sketch of the view from my studio window. The colours drain away from the wood and meadow as I sketch.
I'd sooner look out on a stable than a superstore any day.


Richard Bell,
wildlife illustrator
E-mail; 'richard@daelnet.co.uk'
---
Next day
Previous day
Nature Diary
Wild West Yorkshire home page

---