---

The Quarry Path




Wild West Yorkshire Nature Diary,
Sunday 23rd January 2000
---
Nature Diary
Rocks
History
Gallery
Links
Home Page
---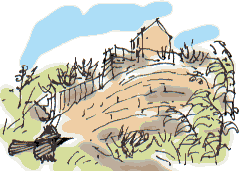 BY THE QUARRY PATH a black cat lies, not terribly well concealed, behind a shrub, intently watching two Collared Doves, which stroll up and down the pavement opposite, just beyond its range, watching it quizzically.





A Robin sings a short wistful phrase from one of the hedgerow trees. A Song Thrush flies from a thorn bush. This species is not such a common sight these days, its presence here demonstrates how important this last wisp of wildness is to bird life.


Chaffinches, Greenfinches and a Great Tit add colour to the old hedge. They use its cover to approach the bird feeders in the gardens across the road.


Two Pied Wagtails flit about in a pub car park.


Richard Bell,
wildlife illustrator
E-mail; 'richard@daelnet.co.uk'
---
Next day
Previous day
Nature Diary
Wild West Yorkshire home page

---