Pond Mural
Monday 10th July 2000





Nature Diary
Rocks
History
Workshop
Links
Home Page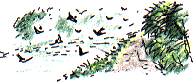 IN THE SHELTER of canal-side birches, a hundred, perhaps two

hundred, House Martins dip and dive over the water, like autumn leaves caught in an eddy. The countryside is so green and leafy now. The dense swirling texture of foliage echoes the swirling movement of the flock and reminds me of the wood engravings of Thomas Bewick.














I notice a few black caterpillars of the Peacock butterfly feeding on Stinging Nettle. I start counting them but, when I get to 35, I realise that there are far more that I'd thought at first glance; something like three times that number are visible and there will no doubt be more hidden amongst the foliage.



The long spines evidently give these caterpillars protection against birds. The Red Admiral caterpillar also feeds on nettles but is solitary and, using silk, it rolls a leaf to form a tent for protection. Small Tortoiseshell caterpillars feed together but they usually have yellow markings as a warning that they contain poisons.

In The Butterflies of Britain and Ireland Lewington and Thomas write;
'the Peacock is often more abundant after a cool wet summer, possibly because stinging nettles are lush and nutritious in such years.'
They should do well this year.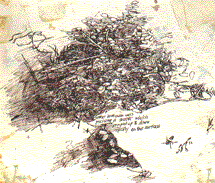 Just twenty-five years since I was discussing my first ever major painting commission; it seems longer than that! A London based designer, Michael Haynes asked me to paint a large acrylic on board (8ft x 4ft) wildlife subject, similar to the one he'd seen in my Royal College of Art degree show. We decided that instead of tropical birds, which I'd painted in London, it would be more appropriate to choose a local landscape. You can imagine my delight at returning to Yorkshire to have the excuse to go down to the pond and make detailed sketches (left). I even bought an aquarium and made close up drawings of newts and water beetles. Everything in the painting was shown life size and everything included was something I'd seen down at the pond (with the exception, I think, of the Kingfisher, which wasn't so common in those days). It took me nine months to complete (between other jobs).



I haven't seen the painting for years, I hope it still exists and that the paint looks as fresh. But twenty-five years later both the pond and myself are in need of rejuvenation. There's not much that we can do about the artist, but at least the pond has recently been restored. I didn't realise, but in fact it is the outlet for a drain which flows under the canal. It had almost silted up but they've scooped it right out, and it's now a ditch which must be nearly ten feet deep. It should last another twenty-five years without much attention.



And I hope the same applies to the artist.




Richard Bell,
wildlife illustrator
E-mail; 'richard@daelnet.co.uk'

Next day
Previous day
Nature Diary
Wild West Yorkshire home page