The Foal
Friday 14th July 2000





Nature Diary
Rocks
History
Workshop
Links
Home Page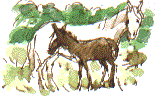 WHILE WE WERE AWAY on holiday, some of the children on our street became concerned about the four ponies that recently appeared in a neglected meadow by the wood. Horse dealers graze their animals on any available space. You'll often see brown-and-white ponies tethered to graze on Heath Common, near Wakefield, for example.

The owners visit from time to time but the ponies don't get the twice or thrice daily attention that some local ponies get.

One of the mares gave birth to a foal. Realising that the mare needed extra feed, and unable to get in touch with the owners, the children took it upon themselves to help. They sold garden plants to neighbours up and down the road then went and bought bales of hay from the farm at the end of the road.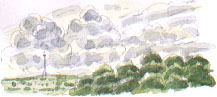 Sadly, since then the foal has died. The children tell me that it was injured by barbed wire.

Now the white mare has foaled. The children are keeping a watchful eye on the new brown foal with a white flash on its forehead.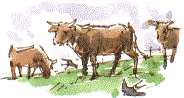 Cumulus piles up over the Pennines beyond the Emley Moor television mast. Swallows fly low, almost at hoof level, around the bullocks grazing the valley-side field.




Richard Bell,
wildlife illustrator
E-mail; 'richard@daelnet.co.uk'

Next day
Previous day
Nature Diary
Wild West Yorkshire home page