Bathing Party
Wednesday 19th July 2000





Nature Diary
Rocks
History
Workshop
Links
Home Page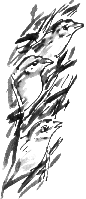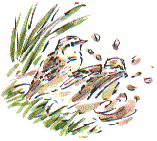 OUR BENCH BY THE POND is now spattered with bird droppings. The pebbly corner of the pool has become THE place for the local House Sparrows to hang out. Two or three of them are bathing, one of them is pecking at grass seeds and some are just chattering to each other.

A single Heron and several Wood Pigeons fly over the wood, which has a golden cast in the evening sunlight.

It's warm enough again for us to eat out on the patio. House Martins trawl the blue skies above us, their white underparts are gilded pale yellow by the low sun.





Richard Bell,
wildlife illustrator
E-mail; 'richard@daelnet.co.uk'

Next day
Previous day
Nature Diary
Wild West Yorkshire home page