Oakwell Hall
Wednesday 26th July 2000





Nature Diary
Rocks
History
Workshop
Links
Home Page


ON FIRST IMPRESSIONS, Oakwell Hall might seem to be a kind of time-capsule, set in some leafy, unchanging corner of the old West Riding of Yorkshire. It was built in 1583, five years before the Spanish Armada. Charlotte Brontë describes it in her novel Shirley (1849);


'The old latticed windows, the stone porch, the walls, the roof, the chimney stacks, were rich in crayon touches and sepia lights and shades.'

The Oakwell Nature Trail, in its two mile figure of eight course around the hall shows that there have been great changes in the surrounding landscape in the last 150 years.


Nova Brook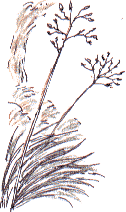 The name of Nova Brook itself, at the foot of the slope to the east of the hall, seems to hint at some change in the landscape. Spiky sedges, Great Willowherb and Tufted Hair-grass grow in the marshy Nova Meadow alongside.

Tufted Hair-grass looks like a giant-sized version of Wavy Hair-grass, which grows in acid soils on heaths and in dry woodland.

As you climb up into Nova Wood beyond the beck, the multi-stemmed trunks of some of the older oaks show that the wood was once coppiced. Shoots were cut for use as poles, some of which were used for pit props, then the stump, known as a 'stool' was left to sprout new growth. The trail leaflet records that there has been no coppicing here for 50 years, but, in other parts of the park, the practice is being revived, where wardens are cutting back smaller trees.

Coppicing rejuvenates woodland. It is difficult to put a precise age on a coppice stool, but it is probable that the oldest tree in England is one that has been coppiced since before the Domesday survey.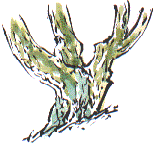 Cutting down trees doesn't destroy woodland; left alone the cleared area will soon regenerate, but if stock are grazed they will destroy the emerging saplings. It has been estimated that England lost more of its ancient woodland in the decades after World War II than it did in preceding thousand years.

There's one example of such a lost wood, visible from the viewpoint at the edge of the woodland. The bushy fields on the slope in front of the hall were once the site of Aster Wood, which was cleared for firewood in 1947. Bluebells still appear in these fields in the spring.

Since Aster Wood disappeared, new woodland has developed adjacent to Nova Wood in the cutting of an old railway line. The Huddersfield to Leeds line was part of the Heaton Lodge and Wortley branch of the London and North Western Railway, built towards the end of the Victorian period and axed after less than a hundred years of use in 1966.

A remarkable feature is a cast iron aqueduct which carries a stream across the cutting. It is marked on the Ordnance Survey map of 1911.





Richard Bell,
wildlife illustrator
E-mail; 'richard@daelnet.co.uk'

Next day
Previous day
Nature Diary
Wild West Yorkshire home page