---
Nocturne, Noctule, Noctuid

Wild West Yorkshire nature diary, Saturday 31st July 1999
---
Nature Diary
Rocks
History
Gallery
Home Page
---

I PICK UP A STONE from the herb bed. On the underside is a patch of about a hundred shiny black pin-heads. I wonder if they are eggs, but then notice that a few of them are scurrying about. They are mites, huddling together in a group.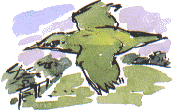 We've been eating out for months, but this evening our first wasp arrives, followed by another. They are attracted to the wine and orange juice. We hear a high-pitched repeated cry from the wood, then see a Green Woodpecker fly at tree-top level up the valley.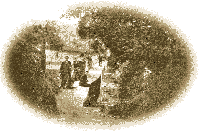 The meadow by the stream at the entrance to the woods was saved from a road, bridge and house building scheme three weeks ago, after a year of uncertainty about its fate, after numerous letters and meetings of anxious locals. Councillors on the planning committee voted against the scheme by a big majority. This week the developer put in his new application to build on the meadow.
After a hot day we walk out at dusk. As the light fades the colour drains from the landscape and senses other than sight seem to be heightened. There's a fresh warm smell of hay after the harvesting, the tarmac of the lane radiates warmth, while cooler air rolls down the slope. We hear the plop of a frog jumping into the canal.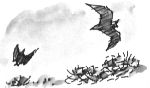 Two Noctule bats fly and dive above a meadow.

As I type, a Large Yellow Underwing, a Noctuid moth, flies in the studio window and circles the light.