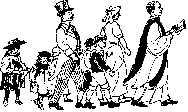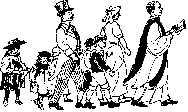 Whit Walk
Sunday 11th June 2000





Nature Diary
Rocks
History
Workshop
Links
Home Page



A HERON flies over the rapids on the Calder. Swallows skim low over the still waters of the canal. A Kestrel hovers over the meadow.

Watercress is in flower in a small clear spring fed stream.
Six or more House Sparrows have gathered in the Broom to peck at flowers and at the branches. Although petals fall off the flowers they don't appear to be eating the plant itself. I suspect they're finding small insects or spiders. A mother searches while its fledgling chick watches with quizzical vacancy, waiting to be fed.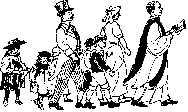 We walk down to the St John's Church (built 1884), Horbury Bridge, to watch the start of a procession which is a millenium re-enactment of a Whit Sunday Walk that took place here in the 1865. Sabine Baring-Gould (1834-1924) , who was then the curate charged with setting up a mission here wrote the hymn Onward Christian Soldiers for the children to sing as they walked up Quarry Hill to St Peter's Church in Horbury. St John's hadn't been built at the time, but I believe the church hall, which stands next to it, was built during Baring Gould's stint at the Brigg.
The Horbury Victoria Prize Band leads the procession followed by children carrying banners, then 200 or parishioners and visitors, with the Bishop of Wakefield, in full regalia, bringing up the rear. It's probably as well that it isn't too hot and sunny today, it's over a mile
Exeter born Baring-Gould became well known as an author of novels and folklore studies. He married local mill girl Grace Taylor in 1868.


Richard Bell,
wildlife illustrator
E-mail; 'richard@daelnet.co.uk'

Next day
Previous day
Nature Diary
Wild West Yorkshire home page