High Summer
Sunday 18th June 2000





Nature Diary
Rocks
History
Workshop
Links
Home Page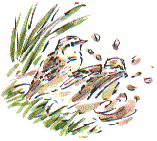 A SMALL COPPER butterfly flies over the lawn where it lands to sun itself.

With the temperature in the shade at 26° centigrade, House Sparrows are regular visitors to the pebbles at the edge of the pond. They drink, flick the water about with their beaks and some of them bathe with a whirr of their wings.
Some sparrows pick insects or spiders from the Broom which is now covered with downy green pea-like pods, with only a few straggly flowers remaining.

One female hops about on a tumbled Hellebore and puts up a small grey moth. it zips after the moth, catches it in its beak just eighteen inches from the ground, then lands in the flowerbed to eat it.


Richard Bell,
wildlife illustrator
E-mail; 'richard@daelnet.co.uk'

Next day
Previous day
Nature Diary
Wild West Yorkshire home page