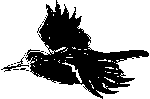 Sheep's Sorrel
Friday 23rd June 2000





Nature Diary
Rocks
History
Workshop
Links
Home Page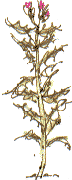 WHAT WERE landscaped shrub beds along the edge of the retail park in Wakefieldare now getting taken over by a thicket of Creeping Thistle.

Lowe Hill, in Thornes Park, is a sandstone outcrop at the edge of the town. Sandstone weathers to form a thin acid soil. On and around the hill Sheep's Sorrel, Rumex acetosa, which is typical of acid soils, now has reddish and yellowish flowerheads, like a tiny dock. The leaves are described as hastate; spear-shaped. The name sorrel comes from an old French word, derived from old German meaning acid, but this refers to the sour taste of the leaves, rather than the acid soils it grows in. It's leaves are sometimes used in salads.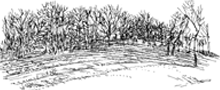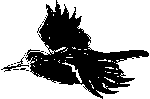 On On the small summit plain of the hill, which still bears traces of medieval ploughing, a pair of Rooks are strolling on the turf. In Victorian times there was a large rookery here, in what was then a private park. The rooks were nicknamed 'Gaskell's Roamers' or 'Gaskell's Homers' after the owner of Thornes House, Charles Milnes Gaskell.



I notice that these rooks don't have the usual bare, light-coloured patch of skin at the base of their dagger-like bills. Perhaps they are juveniles.

As if for comparison, two Carrion Crows, which look more like small ravens, with their broader bills, are walking on the grass at the other side of the summit plain.

To complete a trio of pairs of birds from the crow family, a pair of Magpies are making their way through the trees on the site of the old stables.




Richard Bell,
wildlife illustrator
E-mail; 'richard@daelnet.co.uk'

Next day
Previous day
Nature Diary
Wild West Yorkshire home page